3 possible ways to Export & Backup Office 365 Mailbox to PST
Here in this blog, I am describing the 3 possible ways to export & backup Office 365 mailbox to PST format. Use a suitable method for downloading the entire data of the Office 365 mailbox including emails, contacts, calendars, tasks, appointments, and attachments, etc. into the PST
There are the following methods which will help you to save o365 Cloud platform data into PST.
1- Configuring the Office 365 account in Microsoft Outlook
2- Using the eDiscovery Tool
3- Using a Third-Party Software
Method 1: Backup Office 365 Mailbox with Outlook configuration
Note: While you are using this method you need to verify that you have already setup your Office 365 mailbox to Outlook (like 2016, 2013, 2010, 2007 and 2003).
Once your Exchange Online account is connected with Outlook then follow these given step by step process.
Step 1: First open the Outlook and go to File option on the top left corner. After that, you will get some options then choose Open & Export and Import/Export option.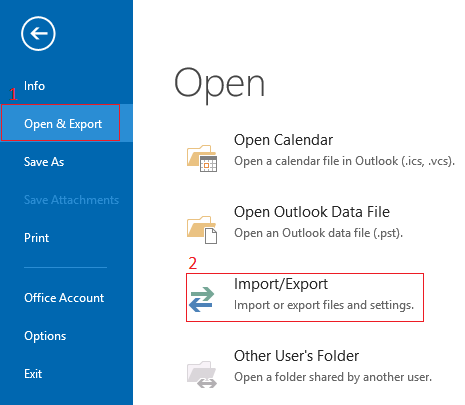 Step 2: Once you have done, a popup window will appear on the screen and just go to Export to a file>> Next.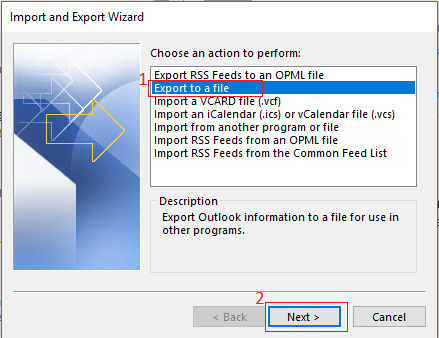 Step 3: Now you need to select Personal Data File (.pst) then hit on next.
Step 4: After that, an Export Personal Folder window will open on the screen. Here you need to check on Includes Subfolders box and click on Next.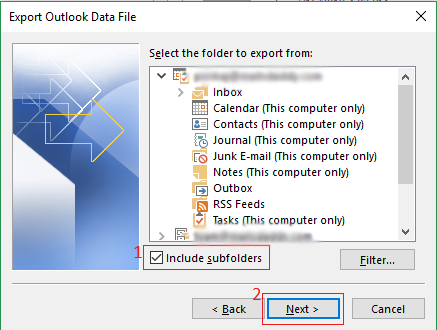 Step 5: Now hit on next, and Browse the location where you want to save the backup file into PST format>> Finish.
Step 6: After finishing the process a popup window will appear on the screen, where you can set the password or skip this step >> Ok.
Note: In this method, you need to connect your Office 365 account with the Outlook otherwise you cannot create a backup of office 365mailboxes. Or if your Exchange server is corrupted or Offline on this time the above method will not work.
Method 2: Export o365 data into PST through the eDiscovery Process
It is the most popular manual way which will help to create a backup of the Exchange Online mailboxes. You can follow these given steps to move data with attachments from an o365 cloud platform to Microsoft Outlook PST.
Follow the instructions to create a backup of Office 365 mailbox data such as emails, contacts, calendars, appointments, tasks, and attachments, etc. into PST file format.
Step 1: Open Office 365 Admin Account, then go to the Admin center and select Security & Compliance.
Step 2: After choosing Security & Compliance the window will come on the screen. Here, you need to select Permissions and check on eDiscovery Manager. Now the eDiscovery Manager window will open >>eDiscovery Administrator and click on Edit.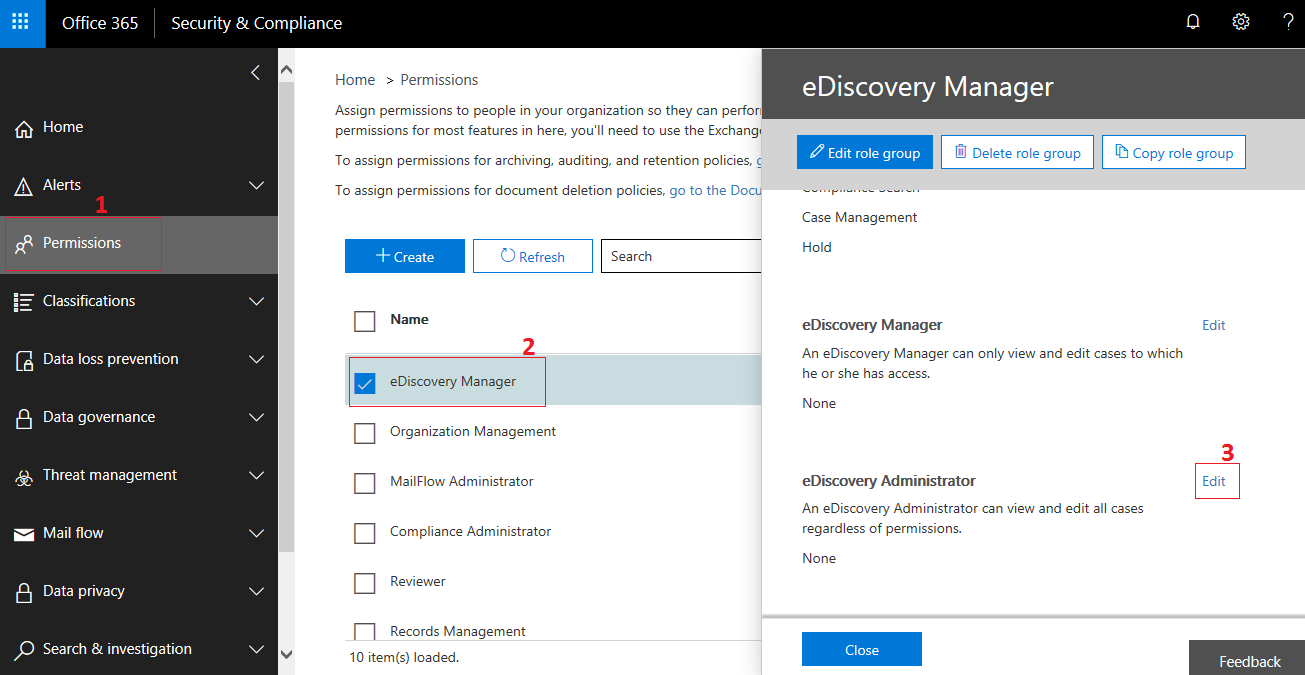 Step 3: Now you will see an option then click Choose eDiscovery Administrator and hit on Add >> Select the Member>> click on Add one more time >>Done. After that Save & close the eDiscovery Manager window.
Step 4: After closing this window, you may see the Security & Compliance window on the screen. Click search & investigation and choose eDiscovery option >>Create a case>> type the case Name and Save.
Step 5: Once you save this case, then open the case. You will see that a window will appear. Click search then Modify and select all Exchange Email>>Save>> Save & Run.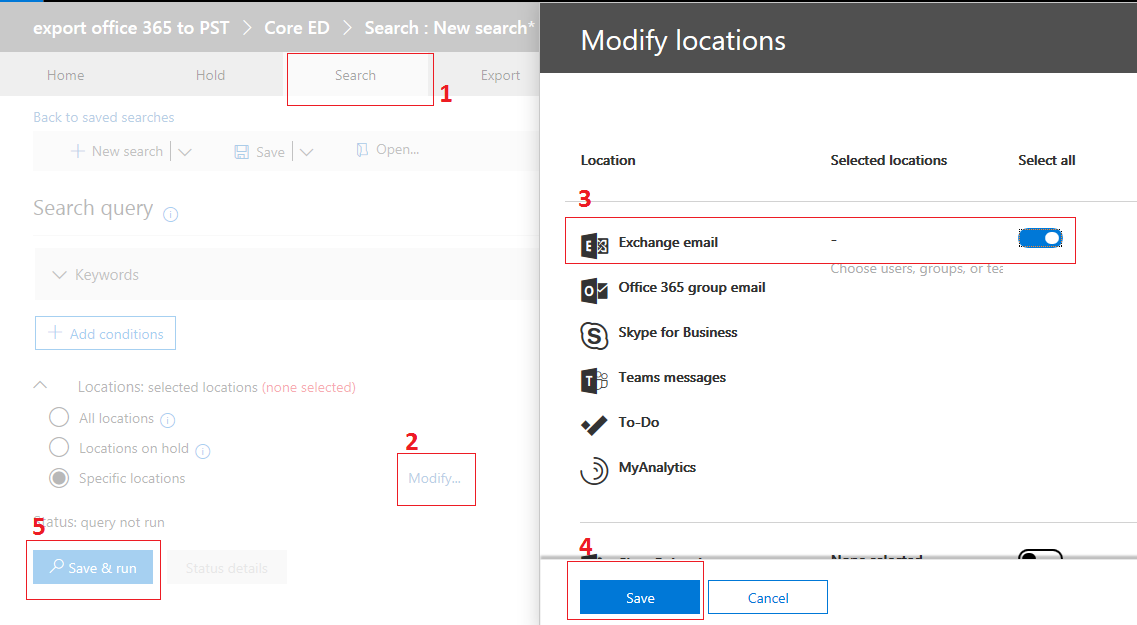 Here you can give the condition by clicking on Add Condition and choose the condition and then Add
Step 6: When it's done just type the job name & description and hit on Save. Once you save this, your all data will be exported then go to More and click on Export Results.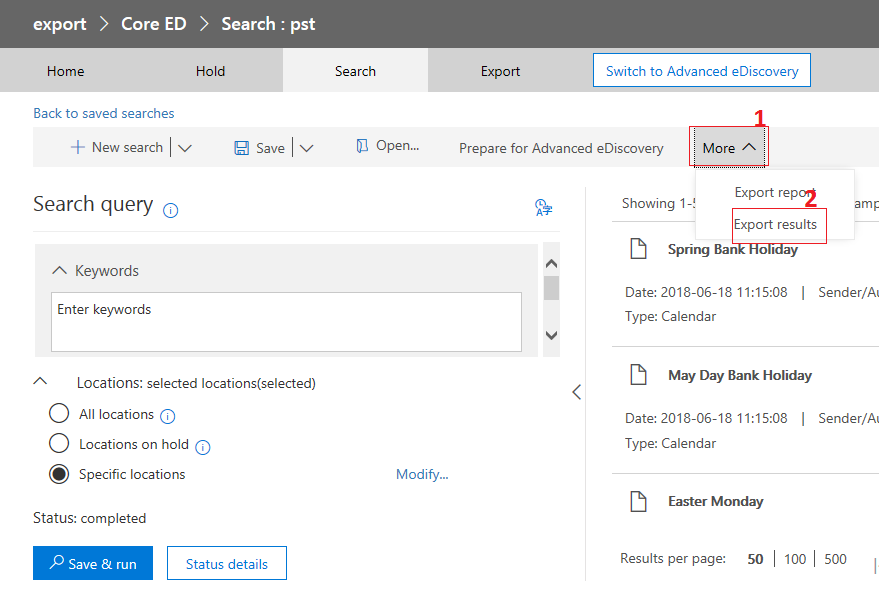 Step 7: Now a window will open and choose the options then Export.
Note: Never checked on Enable de-duplication for Exchange content option.
Step 8: When you are done you need to click on Export and open the backup file. Now click Copy to Clipboard>> Download Results then install (eDiscovery Export Tool).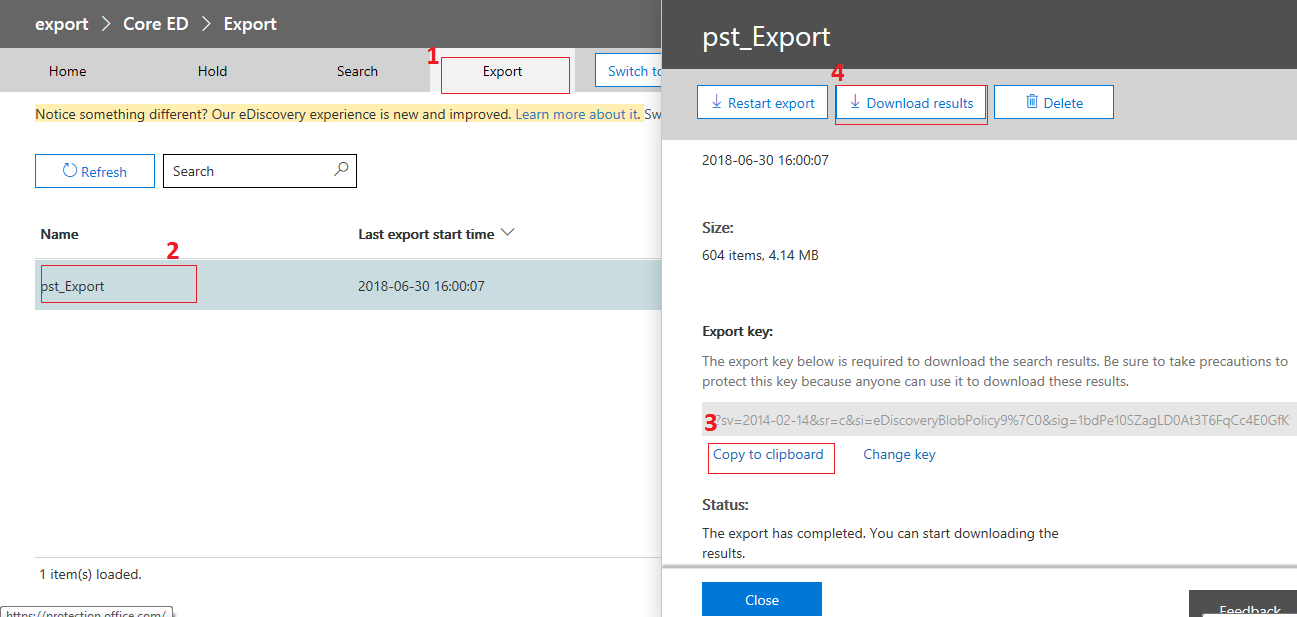 Step 9: Now open the eDiscovery Export Tool and paste the clipboard, browse the location to save the PST file then click Start.
Your Office 365 Backup is successfully created on your computer.
3- Save Office 365 Mailbox backup in the PST format using Third-Party Software
There is another way available for taking the backup of Office 365 into Outlook PST. It is the easiest way for exporting data from Exchange Online to PST or another format like MBOX, MSG, and EML, etc. There are a lot of paid tools available that help in backing up O365 mailboxes like MailsDaddy Office 365 backup and Codeto etc.
Conclusion:
In this post, I explained how to export backup Office 365 mailbox to PST format. If you still have any doubts just leave a message on the comment box. I would be happy to give the answer to your question.